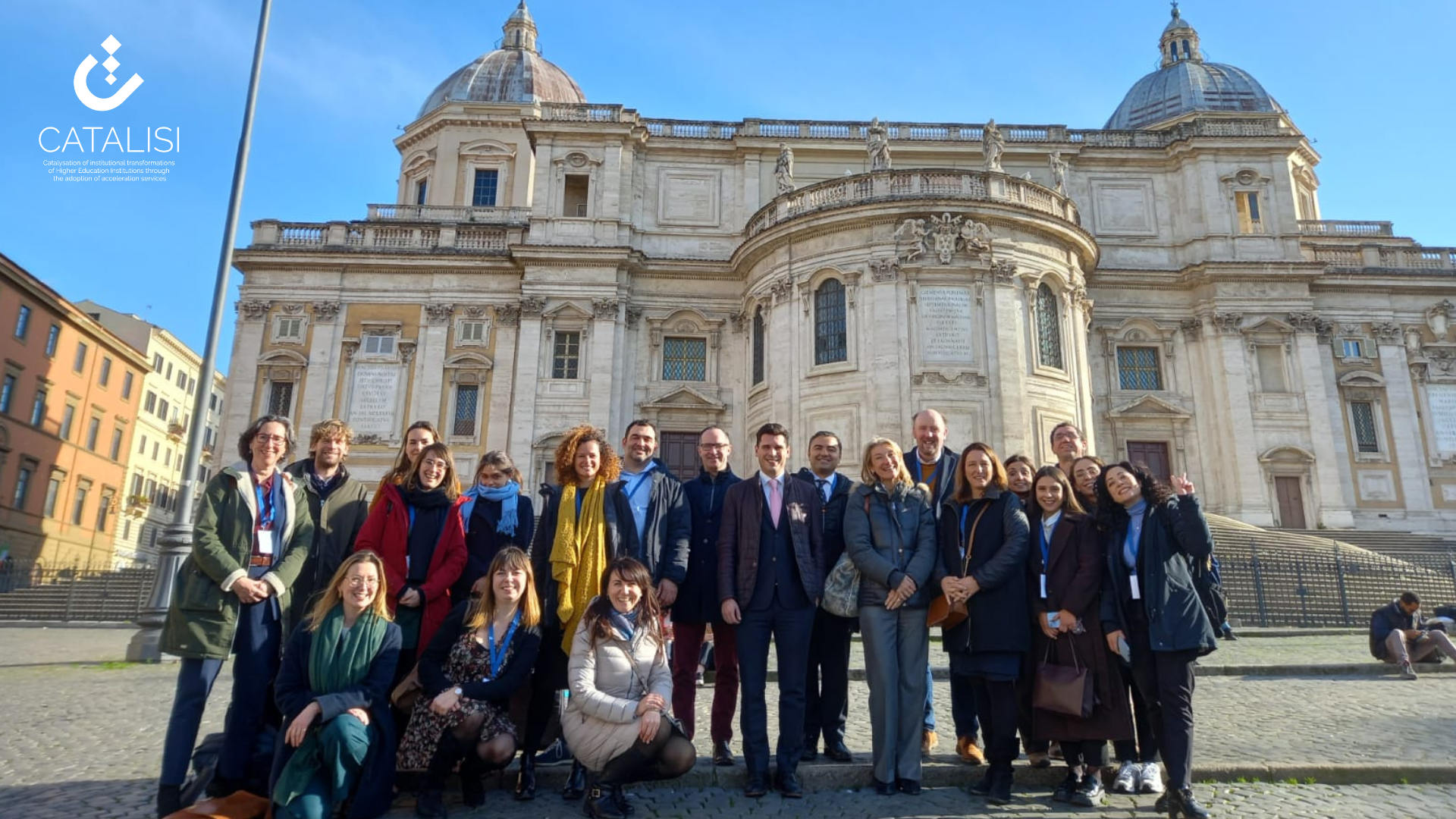 CATALISI is an EU-funded project consisting of 11 partners from 8 EU Member States. The consortium gathered in Rome on 26th and 27th of January to kick off the project that will last 36 months and whose aim is to help and support Higher Education Institutions (HEI) to successfully implement a strategy and individual pathway for institutional transformation. 
The project will analyse how the governance of Higher Education Institutions can be changed, considering the governance as a way in which societal and state actors intentionally interact in order to transform Science Technology and Innovation systems, by regulating issues of societal concern.
While the first day of the kick off meeting focused on sharing and accessing the expertise of the partners, division of the tasks and timeline of activities throughout the project, the second day was dedicated to discussions on stakeholder engagement. CATALISI will provide 7 acceleration services in 3 domains and split its efforts between the implementors and facilitators. In addition to the acceleration services, CATALISI will initiate a dedicated space on its website for exchange of knowledge, matchmaking and funding opportunities as well as gathering inputs from implementors and third parties (Learning Hub).

In order to boost the impact of the project and apply CATALISI findings wider, the project will engage in creating a Community of Practice composed of a group of people who share expertise and experiences in institutional transformation in HEI.

Partners who will participate and are in charge of successful implementation of the project are:
AGENZIA PER LA PROMOZIONE DELLA RICERCA EUROPEA | ERNST & YOUNG BUSINESS SCHOOL SCUOLA DI MANAGEMENT SRL | F6S NETWORK IRELAND LIMITED | EUROPEAN NETWORK OF LIVING LABS IVZW | KAUNO TECHNOLOGIJOS UNIVERSITETAS | UNIVERSITAT JAUME I DE CASTELLON | LUISS LIBERA UNIVERSITA INTERNAZIONALE DEGLI STUDI SOCIALI GUIDO CARLI | UNIWERSYTET GDANSKI | UNIVERSITY COLLEGE CORK | ARISTOTELIO PANEPISTIMIO THESSALONIKIS | STICHTING VUMC
Stay tuned for next CATALISI activities!